Honing your dog's positive social skills.
KCA Playgroup IS…
For dogs that are spayed/neutered by the age of 7 months
For dogs that have previously had positive dog–dog interactions
An environment in which dogs can continue to rehearse and hone positive social skills
An activity that meets physical and mental needs to explore and interact
For puppies with a history of positive dog-dog experiences (with housemates or in a class situation) to continue to learn social cues from other dogs
KCA Playgroup IS NOT…
Necessarily for adult/senior dogs with no previous dog-dog experience
For dogs that are fearful of people or other dogs
For dogs that are aggressive toward people or other dogs
For dogs with handling problems or that have a bite history
For adult dogs that have not been spayed or neutered
Is KCA Playgroups something my dog would benefit from?
Off-leash, group play is NOT for every dog. Whether at KCA's off-leash Playgroups, at a Daycare facility, at a local dog park, or in your backyard, not all dogs enjoy that social experience. Being placed in a situation where they are forced to interact with other dogs can be anxiety & stress-provoking for many dogs. Dogs that don't enjoy social interactions may go home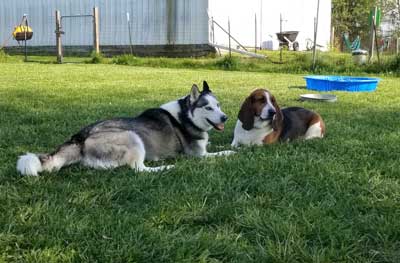 exhausted after a "play" session but generally because they are overly stressed by the situation and not because they had a good time. This is not healthy and can place your dog in a position where they feel forced to use more dramatic behaviors (barking, lunging, and biting) to communicate their distress to other dogs or people. Rehearsal of these behaviors reinforces them and increases the chance that your dog could injure another dog/person or be injured himself.
Playgroup is not a rehabilitation forum. We cannot fix behavior problems in this setting. Our primary concern is for the safety of your dog and the other dogs and people that attend Playgroup. If you have behavior concerns and want to work on "socialization" due to concerns you have regarding your dog's interactions with people and/or other dogs, we recommend you start with a behavior consultation. This will allow us to first explore the concerns you have and discuss whether your dog would benefit from off-leash group play. It may be determined that Playgroup would be beneficial for your dog during the behavior consultation but having a solid understanding of behavior concerns is the first step. However, it may be determined that your dog would better benefit from one on one training, group classes/workshops, or other training opportunities to better address behavior issues.
Come check us out!
Every Friday from 5:00 p.m. to 6:00 p.m. (weather permitting) is KCA Playgroup demo day! See a playgroup session in full swing, talk to the playgroup monitors and get answers to any lingering questions you may have. Humans only please, Fido needs to stay home for the demo!
Ready to come play? Click here to see our information page on how to enroll in Playgroups.